Plain sailing as the good times roll
By admin In News On September 18, 2023
---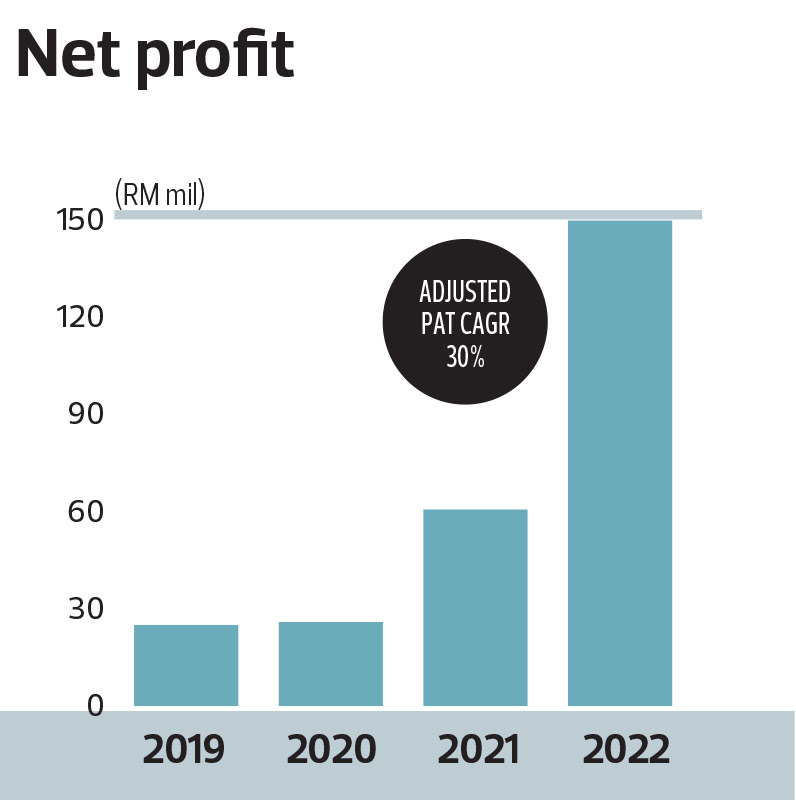 If consistency is a yardstick for excellence, then Sarawak-based shipping and transport outfit Harbour-Link Group Bhd is a company to look out for.
The Bintulu-headquartered company chalked up a net profit of RM149.74 million on revenue of RM907.5 million in FY2022 ended June 30, about 2.5 times the net profit of RM60.58 million it made in FY2021 on revenue of RM609 million. Its earnings in FY2021 was also more than double the net profit of RM25.92 million it made in FY2020 from a turnover of RM617.25 million. In FY2019, it made a net profit of RM25 million.
The group's financial achievements saw it take home for the second year in a row
The Edge Malaysia Centurion Club Corporate Awards for highest ROE and highest PAT growth over the last three years.
Shareholder returns, adjusted according to the awards methodology, stood at an impressive 21.6% over the period, as its share price had risen from 46 sen on March 31, 2020, to RM1.16 by the March 31 cut-off date this year. At the time of writing at end-August, the counter was hovering at RM1.17.
In its FY2022 annual report, Harbour-Link, in explaining its sterling performance, said: "Net profit after tax attributable to shareholders has increased by more than 100%, mainly attributed to the shipping and marine division. The reason for the significant increase is improvement in the freight rate and better utilisation of shipping space from intra-Asia trade and also a one-off reversal of impairment of vessels of RM5.97 million."
The group is involved in a diverse range of businesses, mainly transport and logistics. It has a fleet of 12 container vessels with a total capacity of 6,100 twenty-foot equivalent units or TEUs, and provides liner services in the Malaysia and intra-Asia markets.
Harbour-Link is also actively involved in the sea transport of timber products — mainly sawn timber and round logs — in Southeast Asia, namely Thailand, Vietnam and the Philippines, and operates three tugboats and barges for this business.
In addition, the company is involved in haulage, freight forwarding and warehousing, and has an engineering arm held under its wholly-owned Eastern Soldar Engineering & Construction Sdn Bhd. It also has a property development unit via its 51%-controlled Arcadia Properties Sdn Bhd.
On its outlook and prospects, Harbour-Link said: "The container shipping industry has enjoyed the occasional good year in the past, but it never saw anything like 2021. Carriers in 2021 did more than merely recover from their pre-pandemic slump; they posted results unprecedented in the history of the industry. As recent rate negotiations demonstrate, container liners are taking full advantage of their pricing leverage while it lasts. And it should last for a while longer — barring unforeseen disruptions."
Still, the group cautioned that "while liners are making the most of their current prosperity, the good times will come to an end someday — and possibly sooner than many expect". Concern, it noted, is mounting that today's supply-demand mismatch could flip, "possibly beginning as soon as 2023", said Harbour-Link, as it adopted AlixPartners 2022's Container Shipping Outlook released in March 2022.
While the bulk of Harbour-Link's revenue is from shipping and related businesses, Eastern Soldar Engineering is one of the best known engineering, procurement, construction and commissioning (EPCC) contractors for the construction of petroleum and chemical storage tanks, marine terminals and piping work.
Harbour Link also has a property development business, but due to the soft market, it has temporarily put on hold its Kidurong Gateway Development, which has shophouses from its last project still available for sale, and has plans to develop about 90 acres of industrial land in the same area in Tanjung Kidurong, Bintulu.
Harbour-Link has a strong balance sheet. At end-June 2022, the company had cash and bank balances of RM260.4 million. On the other side of the balance sheet, it had long-term borrowings of RM38.85 million and short-term debt commitments of RM23.96 million.
At the helm of the group are its 70-year-old managing director Datuk Yong Piaw Soon and 60-year-old executive director Wong Siong Seh, who control 53.4% of Harbour-Link via two companies they jointly own — Enricharvest Sdn Bhd and United Joy Sdn Bhd.
News Source: https://theedgemalaysia.com/node/682697
---